Happy, in words of friend of the show Jamie De Jesus, "HUMP DAY!" Today the guys barely got an episode recorded thanks to their busy lives but they did, go them! It's a nice little Tributary Cast review of the Netflix Original Extremely Wicked, Shockingly Evil and Vile starring Zac Efron. Extracurricular topics include film festivals, Mike being out of town, and Jon Wick.
Extremely Wicked, Shockingly Evil and Vile is not the film the guys were expecting. It is not a bad film but it is not an incredible film either. It is really hard to watch a film about a serial killer even without the filmmakers showing the murders. Zac Efron was cast perfectly and delivers a fantastic performance. Matt thinks the first hour of the film jumps around way too much and doesn't make a whole lot of sense. The second half is where this movie really shines but still does not live up to his expectations. Mike on the other hand really enjoyed the movie and thinks you should watch it. They both agree if you are going to watch this film you should watch the companion documentary Conversations with a Killer: The Ted Bundy Tapes also streaming on Netflix. They really do add to each other and tell you most of the true story of Ted Bundy and his victims. Matt thought this film was just average at best and awards it 3 out of 5 Reels. Mike enjoyed it a bit more than Matt but not a whole lot more. He awards the film 3.5 out of 5 Reels.
Our weekly podcasting slump continues sorry everyone. The guys are just too busy and have way too different schedules so they are sticking to one pod a week, for now. Next week the summer movie deluge continues with John Wick: Chapter 3 – Parabellum. Mike might be utterly exhausted but they are going to talk about it anyways. How can you not? If you are itching to hear someone else talk about equally amazing topics don't forget to listen to our sister podcasts The Bluemilk Podcast and The Mile High Show. Chat at you next week!
If you have a film you would like to hear Matt and Mike review feel free to email us at nerds@reelfilmnerds.com Thank you for liking, subscribing, rating, reviewing, and telling your friends about our podcast. Now go out and catch a movie!
Extremely Wicked, Shockingly Evil and Vile
Director: Joe Berlinger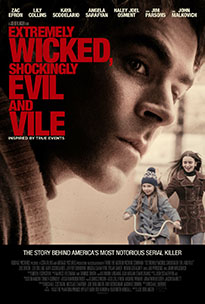 Writers: Elizabeth Kendall and Michael Werwie
Stars: Lily Collins, Zac Efron, James Hetfield, Haley Joel Osment, and Jim Parsons
Release Date: May 3, 2019
Storyline from IMDB
A courtroom frenzy ensues and sweeps 1970s America when a young single mother reluctantly tips the attention of a widespread manhunt toward her longtime boyfriend, Ted Bundy.
Watch the Extremely Wicked, Shockingly Evil and Vile trailer below.
One last thing don't forget to follow us on the social medias!