Hi everybody and welcome to another incredible amazing stupendous episode of the Reel Film Nerds podcast! Well, it's here, the last Marvel Cinematic Universe film of 2019, Spider-Man: Far From Home. Not MCU or Spider-Man related topics include Aladdin, 501st, nerd cred, and Darth Predator.
Spider-Man: Far From Home is a great MCU addition in the vein of the Ant-Man films. It is light hearted and fun throughout most of the film with incredible action sequences. A ton of the side characters had expanded roles in this film versus Spider-Man: Homecoming. Some of them were wanted and appreciated, such as Mary Jane, and others flat out were not. This film does get serious when it needs to be. The explanation at the beginning of the film about the infamous snap was a nice addition giving us information not only for this film but the MCU as a whole. Thank you to whoever decided to add those scenes to the film. Lastly, don't forget to stay for both end credit scenes. They are very important on where the MCU is going next. Game changing is putting it lightly. Matt really enjoyed this film, but he might be biased as he is a big fan of Mysterio. He did enjoy Far From Home more than Homecoming, awarding the film 4 out of 5 Reels. Mike Talent enjoyed the film as well, but not as much as Matt did. Talent did lose his nerd card during this episode, so it's to be expected. Mike gives Spider-Man: Far From Home 3.5 out of 5 Reels.
Next week hopefully we will get a podcast recorded. Matt is very busy with the Arizona Rattlers heading to the national championship IFL United Bowl in Glendale, Ariz. this weekend. If they do get one recorded, it will be on Ari Aster's follow up to last years chilling horror film Hereditary, titled Midsommer. Look for our review on that super weird and crazy horror flick hopefully next week. 
Lastly, thank you for your continued support of our podcast and don't forget to support our sister podcasts The Bluemilk Podcast and The Mile High Show as based in beautiful Prescott, Arizona.
If you have a film you would like to hear Matt and Mike review feel free to email us at nerds@reelfilmnerds.com Thank you for liking, subscribing, rating, reviewing, and telling your friends about our podcast. Now go out and catch a movie!
Spider-Man: Far From Home
Director: Jon Watts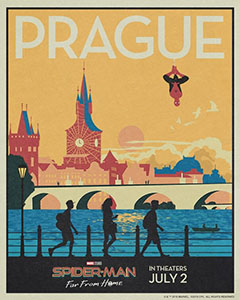 Writers: Chris McKenna, Erik Sommers, Steve Ditko, and Stan Lee
Stars: Tom Holland, Samuel L. Jackson, Jake Gyllenhaal, Marisa Tomei, Jon Favreau, and Zendaya
Release Date: July 2, 2019
Storyline from IMDB
Following the events of Avengers: Endgame (2019), Spider-Man must step up to take on new threats in a world that has changed forever.
Watch the Spider-Man: Far From Home trailer below.
One last thing don't forget to follow us on the social medias!
---
Follow Signals on Facebook to get the latest local events and updates: Facebook.com/SignalsAZ
Subscribe to the Signals Newsletter, events, entertainment, info & news right to your inbox! SUBSCRIBE