Welcome podcast listeners to Reel Film Nerds land! Today, Mike Talent and Matt discuss a fun summer popcorn flick that definitely will not win any awards, Stuber. Topics that are not about this movie include 40's, who actually uses Facetime, and Marvel Studios' San Diego Comic-Con 2019 announcements.
Stuber really caught both of your hosts off-guard. It is a very funny film with a dash of heart and underlying tones about relationships. The action was great, but it was shot a bit too tight for some of the scenes according to Matt. The acting was fantastic. The chemistry between Dave Bautista and Kumail Nanjiani was amazing. The writing was really good and most of the jokes land well, however, there are a few that really don't land too. The story is not super deep, but it was fun, especially for a buddy cop type film. Both of your hosts agree this is well worth a watch, but it is not a must-see in the theater. If you are itching to get out of the house, you will not be disappointed dropping your hard earned cash on this one. Mike Talent really enjoyed himself and he admits it in the pod! He awards Stuber 3 out of 5 Reels. Matt also really liked this film and agreed with Mike. It is a fun popcorn flick. He gives the movie 3.5 out of 5 Reels.
We got our second screener ever! Whoop! Maybe the RFN podcast is getting a following? We sure hope so. The film we will be talking about for Episode #125 is Chasing Molly starring Kurt Angle, Shelley Pack, and Jim Cashman. If you want to watch it before our review, it is available to download right now on all the major pay streaming services such as iTunes or the Google Play Store. Mike and Matt are looking forward to watching another film off the beaten path.
Lastly, thank you for your continued support of our podcast and don't forget to support our sister podcasts The Bluemilk Podcast and The Mile High Show as based in beautiful Prescott, Arizona.
If you have a film you would like to hear Matt and Mike review feel free to email us at nerds@reelfilmnerds.com Thank you for liking, subscribing, rating, reviewing, and telling your friends about our podcast. Now go out and catch a movie!
Stuber
Director: Michael Dowse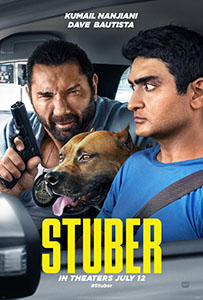 Writer: Tripper Clancy
Stars: Dave Bautista, Kumail Nanjiani, Mira Sorvino, Iko Uwais, and Natalie Morales
Release Date: July 12, 2019
Storyline from IMDB
A mild-mannered Uber driver named Stu picks up a grizzled detective who is hot on the trail of a sadistic, bloodthirsty terrorist and finds himself thrust into a harrowing ordeal where he has to keep his wits, himself unharmed, and work with his passenger while maintaining his high-class rating.
Watch the Stuber trailer below.
One last thing don't forget to follow us on the social medias!
---
Follow Signals on Facebook to get the latest local events and updates: Facebook.com/SignalsAZ
Subscribe to the Signals Newsletter, events, entertainment, info & news right to your inbox! SUBSCRIBE