Hi everybody and welcome to the Reel Film Nerds latest pod. Today the guys discuss a fun and crazy Legacy Cast, Fear and Loathing in Las Vegas starring Johnny Depp and Benicio Del Toro. The guys talk about journalism, Hunter S. Thompson, Tobey Maguire, and lots of trivia about the film. Don't worry they get off topic too. Mike just keeps pushing a Moviepass discussion and Matt might have finally given up the good fight and dropped his subscription.
Fear and Loathing in Las Vegas is a wild film with an insane and drug-riddled premise. The acting is amazing, the sets are fantastic, and it is shot beautifully. The guys once again agreed on a rating. Matt and Mike both give Fear and Loathing in Las Vegas 4 out of 5 Reels. What do you think, is Matt really as dark as he sounds and should he stop reading Marvel Comics and start reading the dark and gritty world of DC? Wait hold on we talk about movies here, so what if he is dark?
Next, the guys will be talking about Jennifer Garner's action revenge thriller Peppermint. It is nice to see her getting work again outside of the Capital One commercials!  Email us your thoughts and suggestions or just email us to say hello.
Thank you for liking, subscribing, rating, reviewing, and telling your friends about our podcast. You are slowly helping us take over the world like Pinky and the Brain!
If you have a film you would like to hear Matt and Mike review please Facebook message us, Instagram message us, or email us at nerds@reelfilmnerds.com
Fear and Loathing in Las Vegas
Director: Terry Gilliam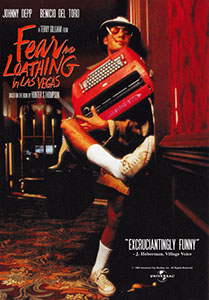 Writer: Hunter S. Thompson, Terry Gilliam, Tony Grisoni, Tod Davies, and Alex Cox
Stars: Johnny Depp, Benicio Del Toro, Tobey Maguire, and Gary Busey
Release Date: May 22, 1998
Storyline from IMDB
The big-screen version of Hunter S. Thompson's seminal psychedelic classic about his road trip across Western America as he and his large Samoan lawyer searched desperately for the "American dream"… they were helped in large part by the huge amount of drugs and alcohol kept in their convertible, The Red Shark.
Watch the Fear and Loathing in Las Vegas trailer below.
One last thing don't forget to follow us on the social medias!
___
Follow Signals on Facebook to get the latest local events and updates: Facebook.com/SignalsAZ
Subscribe to the Signals Newsletter, events, entertainment, info & news right to your inbox! SUBSCRIBE