What a glorious day!!! It is our review of the first Marvel Cinematic Universe film of the year, Captain Marvel! We hope you are as excited as your two hosts'. The boys stay on point for most of the double-sized pod. Bonus topics include Matt has more movie-going issues, Mike really is a hardcore movie nerd and a bit of comic book history about Captain Marvel including Kelly Sue DeConnick's infamous run from 2012-2015 that the movie Carol Danvers is mostly based on. There is no MCU tie because duh this movie is in the MCU! A heads up though our spoiler section of the podcast starts at the 17-minute mark for those of you that have not seen the film yet.
No big surprise here but both the gents enjoyed Captain Marvel very much. Mike enjoyed it just a touch more. The acting was great, at times, the soundtrack was great especially if you are a child of the '90s, and the sets looked pretty dang good too. The story was decent but the telling of Danvers' origin story through flashbacks worked at times but not great. It is especially confusing at the start of the film. It was great to see the Skrull- Kree war finally brought to the big screen and surely this is only the beginning of a much larger story involving the two species. Mike really enjoyed Captain Marvel especially the soundtrack and the 90's references. He gives the film 4 out of 5 Reels. Matt also enjoyed the movie but not nearly as much as Mike. He is not a huge fan of Brie Larson and her acting. He also was probably too nitpicky for his own good. Damn nerds can't please them all! He gives Captain Marvel 3.5 out of 5 Reels.
Thursday we hope to talk about a little Same Elliot film that flew under the radar, The Man Who Killed Hitler and Then The Bigfoot. Matt is very busy with the NAZ Suns basketball season winding down with a very long homestand. Mike, well he is Mike and the daylight savings time change makes recording a bit more challenging being on the east coast. We will do our best to get it done but if not don't fret we will talk about the film next week. Enjoy our double-sized pod of Captain Marvel and thanks again for stopping by and listening to two nerd's geek out about films. Chat at you maybe Thursday.
If you have a film you would like to hear Matt and Mike review feel free to email us at nerds@reelfilmnerds.com Thank you for liking, subscribing, rating, reviewing, and telling your friends about our podcast. Now go out and catch a movie!
Captain Marvel
Directors: Anna Boden and Ryan Fleck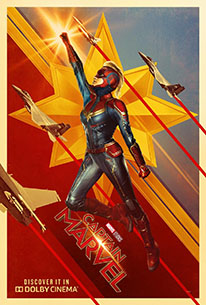 Writers: Anna Boden, Ryan Fleck, Geneva Robertson-Dworet, Nicole Perlman, and Meg LeFauve
Stars: Brie Larson, Samuel L. Jackson, Ben Mendelsohn, Jude Law, and Annette Bening
Release Date: March 8, 2019
Storyline from IMDB
Carol Danvers becomes one of the universe's most powerful heroes when Earth is caught in the middle of a galactic war between two alien races.
Watch the Captain Marvel trailer below.
One last thing don't forget to follow us on the social medias!