Happy post hump day aka Friday eve? Anyways today is Thursday which means new podcast day! Our review is about a film you probably never heard of but stars someone you have The Man Who Killed Hitler and Then The Bigfoot starring Sam Elliott. Outside topics include MTV Unplugged, Letterboxd, and Captain Marvel.
The Man Who Killed Hitler and Then The Bigfoot is not what you would expect. It really caught your hosts off guard. The title comes off as a really fun B movie but it's not. This movie is very serious and very sad. It is not a bad movie but it is not incredible either. The acting is great especially by Sam Elliott. The sets and cinematography are breathtaking especially the outside shots in Canada and Germany. The amazing title that throws you for a loop definitely hurt the ratings from your hosts. Matt enjoyed the movie but did not think it was great. He gives the film 2.5 out of 5 Reels. Mike Talent also liked The Man Who Killed Hitler and Then The Bigfoot but was stunned by the tone and feel of the movie. He awards it 2 out of 5 Reels.
Next week we will be reviewing a western that came out the same week as Captain Marvel that is being overshadowed by it big time, The Kid based on the infamous Billy the Kid. Our second film is a brand new Netflix Original that dropped yesterday, Triple Frontier. It is an action film that takes place south of the border and has an amazing star-studded cast to boot! Chat with you next week everyone.
If you have a film you would like to hear Matt and Mike review feel free to email us at nerds@reelfilmnerds.com Thank you for liking, subscribing, rating, reviewing, and telling your friends about our podcast. Now go out and catch a movie!
The Man Who Killed Hitler and Then The Bigfoot
Directors: Robert D. Krzykowski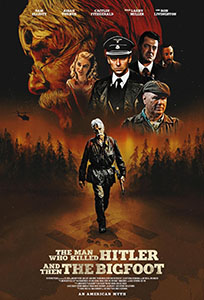 Writers: Robert D. Krzykowski
Stars: Sam Elliott, Aidan Turner, Ron Livingston, and Caitlin FitzGerald
Release Date: February 8, 2019
Storyline from IMDB
Calvin Barr, an old, bitter recluse who was once a legendary assassin for the US government, and whose task to kill Hitler almost changed the course of WWII, is asked to come back from retirement for one finaltop-secrett mission – to track down and eliminate a Bigfoot that became infected with a deadly disease that could spread to others if the creature remains on the loose in the forest for too long. During the mission, Barr's WWII past is shown through flashbacks.
Watch The Man Who Killed Hitler and Then The Bigfoot trailer below.
One last thing don't forget to follow us on the social medias!